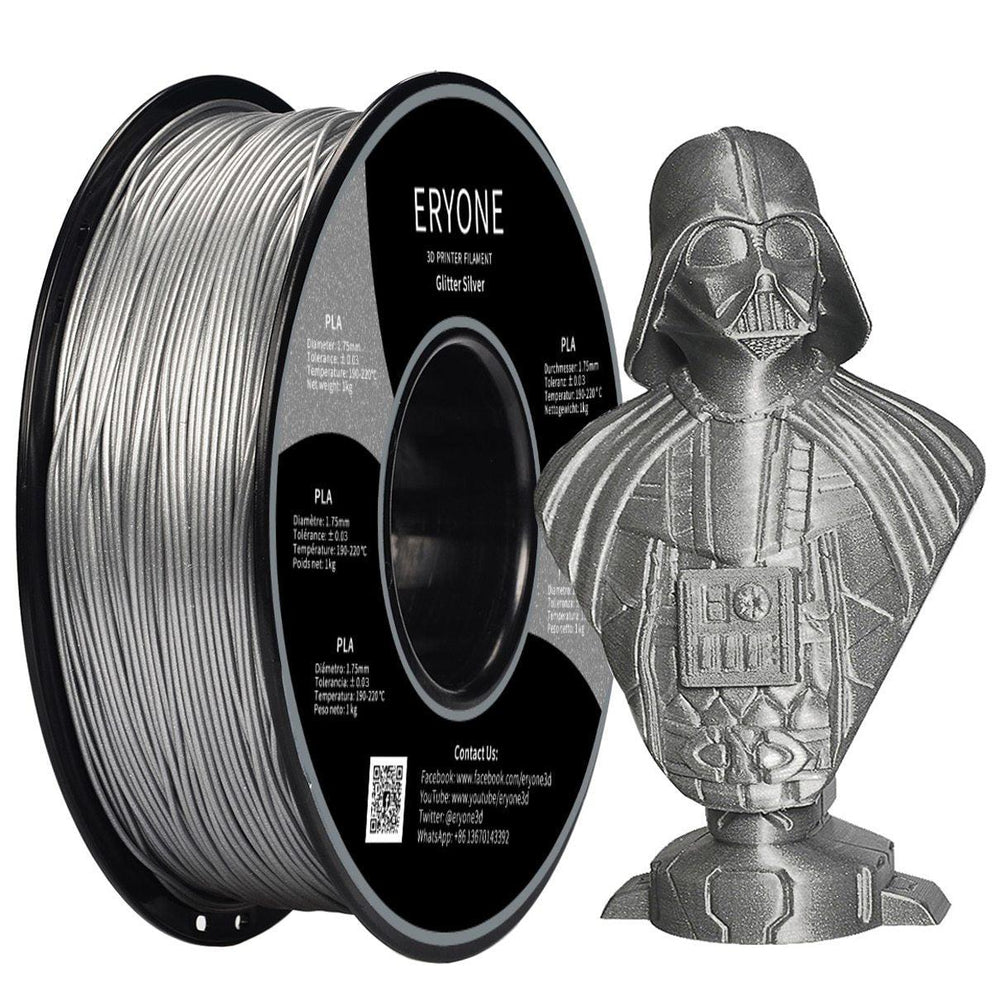 ERYONE
Ships from:
The UK
Ships from UK to UK only
ERYONE 1kg 1.75mm Galaxy Glitter PLA Filament 3D...
$29.43
ERYONE Galaxy Glittering PLA Filament brings a little bling to your prints, made from high quality virgin plastic and with strong colours and a dazzling sparkling finish, supplied in vacuum packaging for freshness. Wound to prevent tangles, tight tolerance control and quality material ensures great prints everytime. Suits most FDM 3D Printers from Creality 3D, Artillery, SUNLU, Geeetech, XVICO, Eaythreed and more. This is a great filament for making props and cosplay items. No need to try and coat an item with glitter after printing, the glitter finish runs through your print as well, meaning the odd scuff won't leave bald patches. Quality is at the heart of ERYONE, Founded in 2018, Headquartered in Shenzhen, the heart of Chinese Electronics, ERYONE benefits from direct access to raw material suppliers and young talent. Features: Minimum Tolerance | Low Warping | Ensure Consistent Feeding and Stable PrintsMinimum tolerance and low warping to ensure consistent feeding and stable prints, No clogging, extremely high successful rate, resulting in printed parts that have an outstanding surface finish and are highly precise. Purest-grade Material | Made in USA | Non Toxic and Limited SmellERYONE filaments are 100% Made in the USA with virgin materials, Biodegradable and Eco-friendly, NO harm to user and environment. Ideal for indoor printing. Professional Packaging | Vacuumed SealedERYONE is supplied in a sealed vacuum bag with a desiccant bag to keep it dry and keep out dust and foreign particles, prevent nozzle jams and yield smooth 3D models. High CompatibilityCompatible with 3D Printers and 3D Pens that use 1.75MM filament, Such as: Prusa,Makerbot,etc. ERYONE filament had been tested on various brands of 3D printer in the market and with positive customers' feedback. Specifications: Filament Diameter: 1.75mm Tolerance: ± 0.03mm Print Temperature: 190-220°C Recommended Print Temperature: 210-220°C Peak Melting Temp: 155±5°C> Heated Bed Temp: 55-70°C Recommended Print Speed 30-60mm/s Produced mainly from Corn Starch, eco friendly material. Net Weight: 1kg (inc spool) Gross Weight: 1.3-1.4kg Specific Gravity [g/cm3]: 1.24 MFR [g/10min]:  6 Tensile Strength [MPa]: 61 Elongation at Yield [%]: 3.2 FAQ: Clogging: Clogging is caused by uneven wire diameter or too low a temperature. Clean the nozzle before use and raise the temperature to reduce the chance of clogging. Stringing: If the temperature is too high, the flow of PLA is too fast, or the feed parameters are not set properly, wire stringing will be caused. Reducing the temperature and speed corrections will solve these issues. Over Extrusion: Too high a temperature, too slow speed, or nozzle diameter in the section does not match will cause too much extruding at the nozzle outlet, and there will be residual material.
GEEETECH
Ships from:
The UK
Ships from UK to UK only
Geeetech PLA 3D Printer Filament 1kg 1.75mm Many...
from

$17.89
Geeetech PLA 3D printer filament is universally developed and compatible with most 3D printers for 1.75 mm filament, with a dimensional accuracy of +/- 0.02 mm. PLA, is environmentally friendly, no small household pressure. As a result, it is very popular in the 3D printing industry. It is easy to use, can either be heat bed printed or not. Geeetech are an international company that has distinguished itself for many years in developing the 3D printing industry. Our main products are 3D printers and 3D printing accessories.After opening the package, do not expose to fire or direct sunlight; store in a ventilated and dry place. To avoid clogging the nozzles, remove the filament from the extruder if you will not be using the printer for a long time. Keep it in a cool and dry place. Protect from UV light. We recommend inserting the end of the filament into the holes provided on the spool to avoid tangling. You can choose from a variety of colours to find at least one colour to satisfy your wonderful illusion of 3D printing. You will enjoy the wonderful experience our PLA filament offers printing a designed module and sometimes you can finish interesting work with children. of the wonderful experience of our PLA. Features: High quality fresh filament, not recycled. Vacuum Packed for freshness Suitable for printers such as; EasyThreed , Makerbot, UP, Luzbot, Leapfrog, Reprap, Ultimaker, Mendel, Prusa, Raise3D, Creality, Artillery, Geeetech, SUNLU etc..... Specifications: Material PLA ABS PETG Printing Temp 190-220°C 220-240°C 230-250°C Density 1.25±0.05g/cm³ 1.04±0.2g/cm³ 1.23g/cm³ Length 330±10m 400±10m 325±10m Strength ≥60Mpa 43Mpa 53Mpa Diameter 1.75mm ±0.2mm Bubble 100% Bubble Free Net Weight 1kg Gross Weight 1.3kg (approx) Environment friendly Yes No Yes Heated Bed Required Not necessary 80-120°C 75-90°C Properties Meets food grade requirementsBiodegradableGood StickinessOdorlessStiffness and Strength High temperature resistanceGood impact and wear resistanceGood toughness Environmentally friendlyOdorlessSmooth dischargeNot easily blocked or broken Additional Images ⠀ Return to top
SUNLU
Ships from:
China
Ships from China to most countries
SUNLU Twinkling PLA 1.75mm 3d Printer Filament 1kg...
$42.25
Add some sparkle to your life with this new twinkling 3D printer filament from SUNLU. Ideal for modelers and cosplay costumes, props and more. Suitable for printing on most 3D printers from Creality, Artillery, GeeeTech, SUNLU, JG Maker and more. As the glitter is an integral part of the filament, it saves work later trying to coat a piece in glitter. As it is part of the print a minor scuff or scratch to the part will not create a bald patch. Important Information About The Packaging ⠀ SUNLU produce four styles of packaging for their filament, we will send whichever we have in stock at the time of ordering. Please see the image below for the box styles they use. Specifications: Brand Name: SUNLU Material: PLA Quantity: 1 Spool Colours: Black or Blue Filament Diameter: 1.75mm Printing Temperature: 200-230°C Features: Eco-friendly, good toughness, bright color Application: 3D Printing, 3D Pen Net Weight: 1kg with spool Gross Weight: 1.4kg (Approx) Filament packing: Vacuum bag packing
Free Tracked Shipping*
*Some countries may have a small delivery charge due to disproportionately high shipping.
Fully secured payments
All our payments are handled by secure methods, we'll never see or ask for your payment details.
Friendly service
We pride ourselves on great service, no matter the order value, we want you to be satisfied with it.