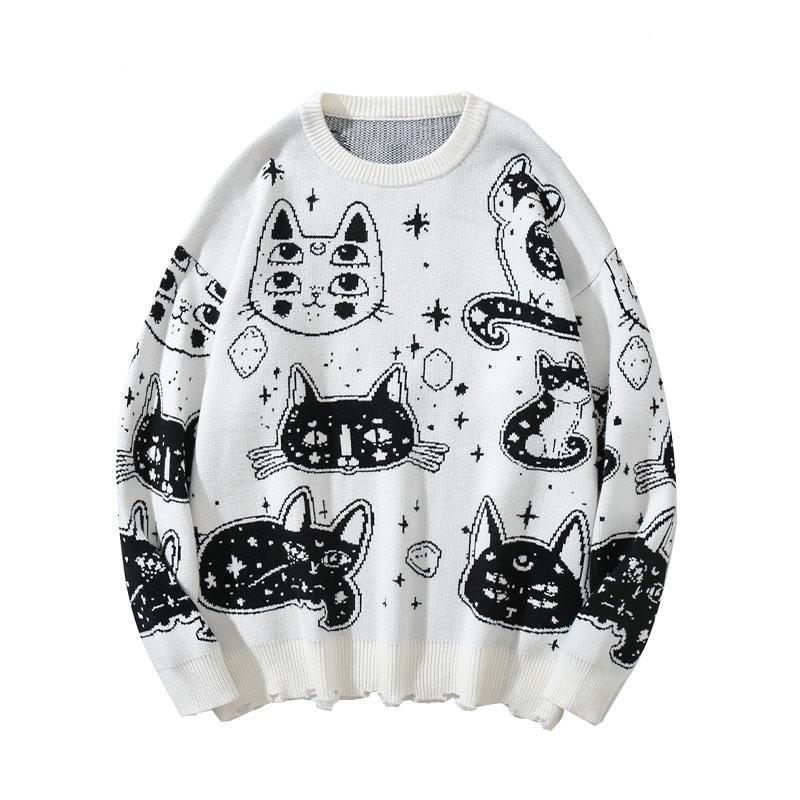 Gorgeous Jumpers
Ships from:
China
Ships from China to most countries
Black and White Cats Knitted Jumpers Casual Sweater...
$30.71
Why wear the same as everyone else? Step out if something a little different this cold season with this crazy Cat Face Sweater. With its various cats and kittens in all shapes and sizes, it's a big bold print jumper. The hem of the jumper features a ripped/tasseled effect making it look like a cat has attacked it. Made from soft and warm Acrylic, it's light and warm. The Cat Face pattern repeats across the front and rear of the sweater. Ideal for casual everyday wear. These are a fairly Unisex design, with a baggy fit. Please check out size guides to ensure a great fit. Size Chest Length Sleeve SizeM Chest116cm45.7in Length70cm27.6in Sleeve53cm20.9in SizeL Chest120cm47.2in Length72cm28.3in Sleeve54cm21.3in SizeXL Chest124cm48.8in Length74cm29.1in Sleeve55cm21.7in Size2XL Chest128cm50.4in Length76cm29.9in Sleeve56cm22.0in The little details: Material: Acrylic Applicable Season: Autumn, Spring, Fall, Winter Pattern Type: Knitted Print Knit Technique: Computer Knitted Collar: O-Neck Item Type: Pullovers Sleeve Length: Full Sleeve Style: Regular Hooded: No Thickness: Standard Item: Unisex Jumper, Ladies Jumper, Men's Jumper, Girls Jumper, Boys Jumper, Cat Jumper Color: White, Black Size: M, L, XL, XXL, 2XL Pattern: Cartoon Cat Head Print
Everyday Sweatshirts
Ships from:
China
Ships from China to most countries
Men's Sweatshirt 68% Cotton: Plus Size Streetwear in...
$30.71
These great sweatshirts are simple and stylish, ideal for larger size guys (myself included), great it you like something with a design but not overly 'showy', the arm features the word 'INNOVATION' in large print, available in sizes M to 8XL. With their cotton rich content these not only look great but feel great to wear, the touch of spandex gives you a little stretch when needed. These are a drop-shoulder loose and baggy style, the shoulder measurement is wider while the sleeve length measurement is shorter. Please check our sizing info to ensure you have a great fit. These are Asian sizes so they work out a bit different to U.S./UK sizes. For an example, I am a UK XXL for most sweatshirts, on this item I would go for a 7XL or 8XL for a loose fit. Size Chest Length Sleeve Shoulder SizeM Chest104cm40.9in Length64cm25.2in Sleeve59cm23.2in Shoulder42.5cm16.7in SizeL Chest108cm42.5in Length66cm26.0in Sleeve60.5cm23.8in Shoulder44cm17.3in SizeXL Chest112cm44.1in Length68cm26.8in Sleeve62cm24.4in Shoulder45.5cm17.9in Size2XL Chest116cm45.7in Length70cm27.6in Sleeve63.5cm25.0in Shoulder47.5cm18.7in Size3XL Chest120cm47.2in Length72cm28.3in Sleeve65cm25.6in Shoulder47.5cm18.7in Size4XL Chest124cm48.8in Length74cm29.1in Sleeve66.5cm26.2in Shoulder49cm19.3in Size5XL Chest128cm50.4in Length76cm29.9in Sleeve68cm26.8in Shoulder50.5cm19.9in Size6XL Chest134cm52.8in Length77cm30.3in Sleeve69cm27.2in Shoulder52cm20.5in Size7XL Chest140cm55.1in Length78cm30.7in Sleeve69.5cm27.4in Shoulder53.5cm21.1in Size8XL Chest146cm57.5in Length79cm31.1in Sleeve70cm27.6in Shoulder55cm21.7in The little details: Material: 68% Cotton, 27% Polyester, 5% Spandex Colour: Black with Orange or Yellow accents Sleeve Length: Full Collar: O-Neck Season: Spring, Summer, Autumn, Winter Size: M, L, XL, XXL, 2XL, 3XL, 4XL, 5XL, 6Xl, 7XL, 8XL Pockets: Yes Pattern Type: Solid Applicable Scene: Daily, Casual, Everyday Item: Boys Sweatshirt, Mens Sweatshirt, Skater Fashion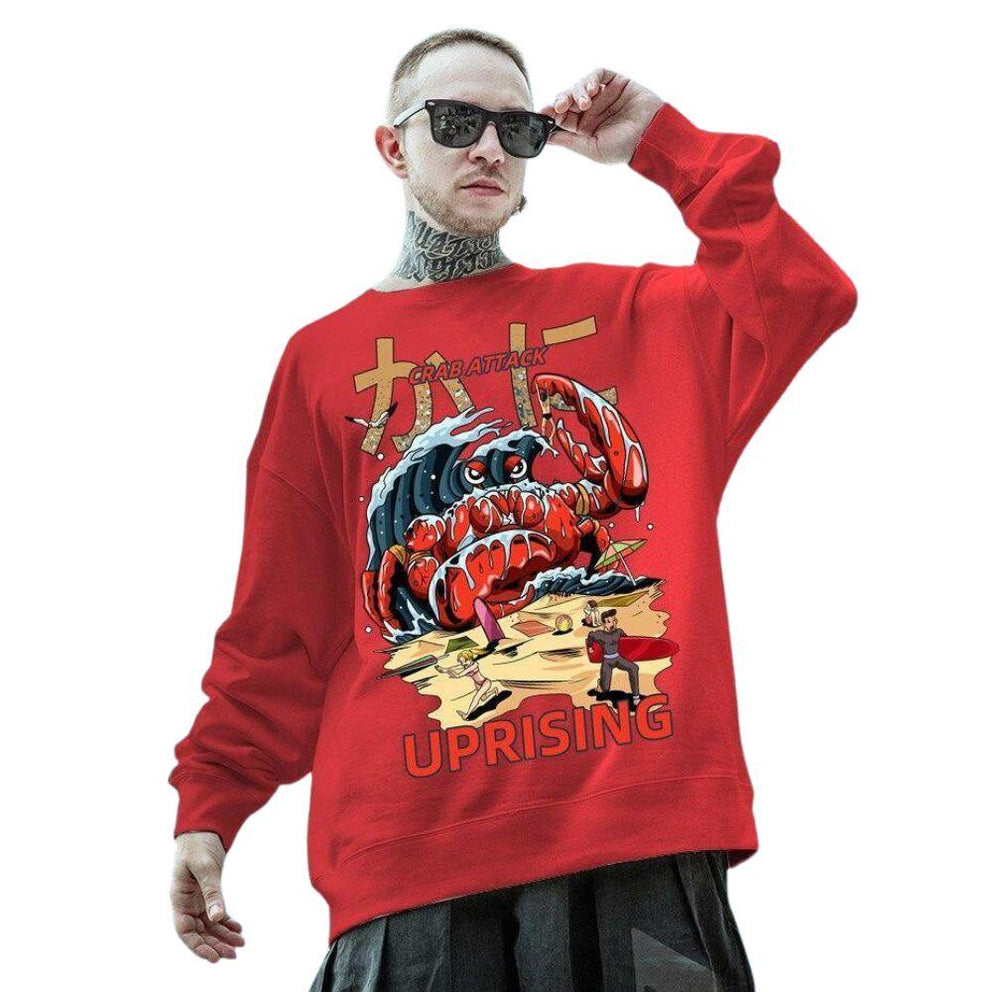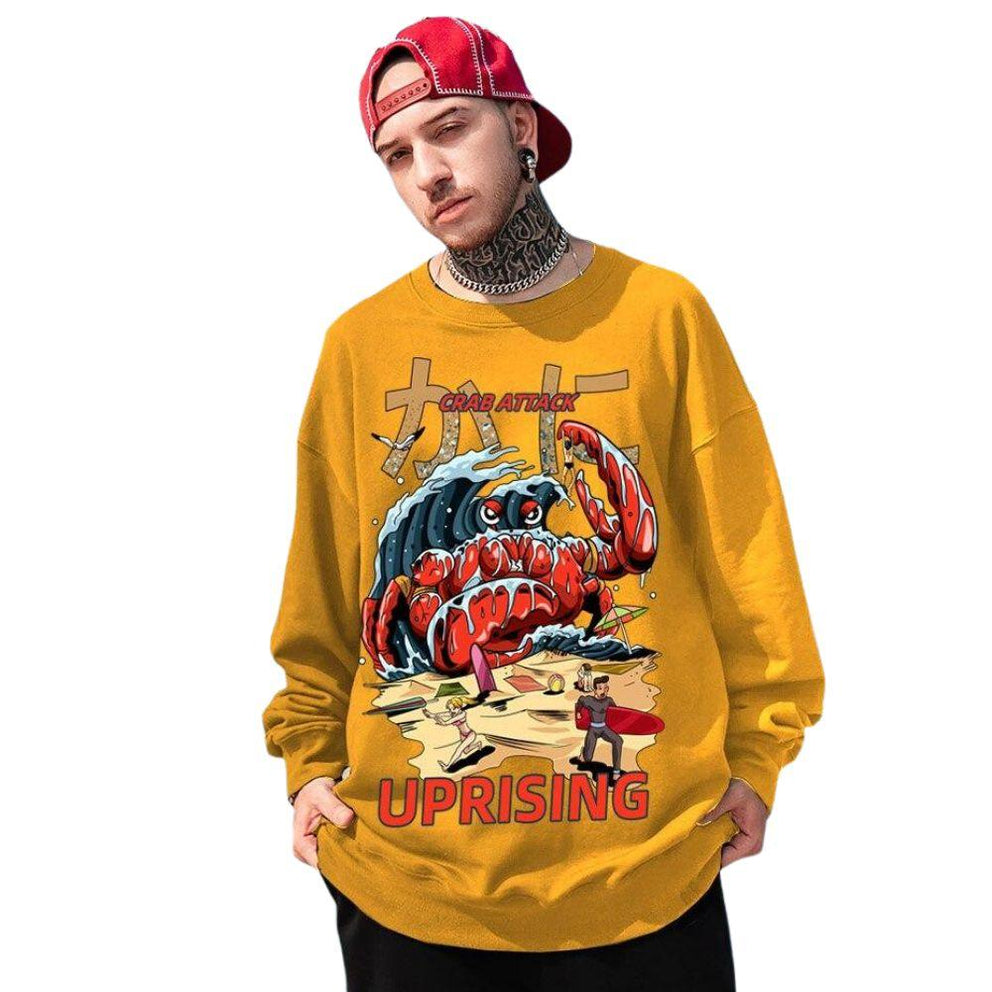 UPRISING
Ships from:
China
Ships from China to most countries
Crab Attack Long Sleeve Sweatshirt for Men -...
$44.82
$46.10
Don't just blend in - break out with these UPRISING shirts that feature awesome Japanese movie designs! With this 🦀 Crab Attack tee, you'll see what happens when your seafood dinner decides to fight back, sending a wave of terrified surfers 🏄‍♀️🏄‍♂️ running for the hills. Available in a range of colours and sizes.Please double check your size, these are made to Asian sizing so can run a little small against UK/US sizes.Material: Worsted (a high-quality type of wool yarn) Size Chest Length Sleeve Shoulder Size M Chest 110cm43.3in Length 66cm26.0in Sleeve 56cm22.0in Shoulder 56cm22.0in Size L Chest 114cm44.9in Length 69cm27.2in Sleeve 57cm22.4in Shoulder 58cm22.8in Size XL Chest 118cm46.5in Length 71cm28.0in Sleeve 58cm22.8in Shoulder 60cm23.6in Size 2XL Chest 124cm48.8in Length 73cm28.7in Sleeve 59cm23.2in Shoulder 63cm24.8in Size 3XL Chest 132cm52.0in Length 75cm29.5in Sleeve 60cm23.6in Shoulder 67cm26.4in Size 4XL Chest 138cm54.3in Length 77cm30.3in Sleeve 61cm24.0in Shoulder 70cm27.6in Size 5XL Chest 144cm56.7in Length 79cm31.1in Sleeve 62cm24.4in Shoulder 73cm28.7in The little details: Sleeve Length: Long Collar: O-Neck Item: Men's Sweatshirt, Boys Sweatshirt, Japanese Theme Sweatshirt, Monster Theme Sweatshirt Sleeve Style: Regular Hooded: No Sizes: M, L, XL, XXL, 3XL, 4XL and 5XL Colours: Black, Red, White, Blue and Yellow Character: Mutant Crab Theme: Horror, Sci-Fi, Monster Pattern Type: Print
Free Tracked Shipping*
*Some countries may have a small delivery charge due to disproportionately high shipping.
Fully secured payments
All our payments are handled by secure methods, we'll never see or ask for your payment details.
Friendly service
We pride ourselves on great service, no matter the order value, we want you to be satisfied with it.