Bunny Designs
Ships from:
China
Ships from China to most countries
Bunny Rabbit Long Eared Nightgown & Pajamas
from

$28.15
Introducing our Bunny Rabbit Long Eared Nightgowns - the perfect garment for a cozy evening featuring cute and charming elements! This warm flannel hooded thick girls nightwear is packed with kawaii vibes, from its large rabbit ears hood and heart-shaped pockets with ribbon detail to its slight ruffled hem and cuffs. Ready to hop into bed? Get your rabbit on in Pink or Blue, sizes M to XXL! Please check our sizing guide to ensure you have a great fit. Size Bust Gown Length Sleeve Hem Bottoms Length Rec. Height Size M Bust 140cm55.1in Gown Length 110cm43.3in Sleeve 103cm40.6in Hem 156cm61.4in Bottoms Length 98cm38.6in Rec. Height 150-160cm59.1-63.0in Size L Bust 144cm56.7in Gown Length 112cm44.1in Sleeve 106cm41.7in Hem 160cm63.0in Bottoms Length 101cm39.8in Rec. Height 160-165cm63.0-65.0in Size XL Bust 148cm58.3in Gown Length 114cm44.9in Sleeve 110cm43.3in Hem 165cm65.0in Bottoms Length 103cm40.6in Rec. Height 165-170cm65.0-66.9in Size XXL Bust 152cm59.8in Gown Length 116cm45.7in Sleeve 112cm44.1in Hem 170cm66.9in Bottoms Length 105cm41.3in Rec. Height 170-175cm66.9-68.9in The little details: Material: Cotton, Flannel Season: Autumn, Fall, Winter Pattern Type: Solid Gown Length: Mid-Calf Item: Ladies Night Robes, Women's Nightgown, Girls Dressing Gown, Bunny Rabbit Pajamas, Bunny PJ's Occasion: Home, University, Travel Theme: Bunny Rabbit, Hearts Style: Cute, Kawaii, Vintage, Geek, Warm Additional Images: Click to view Additional Images ×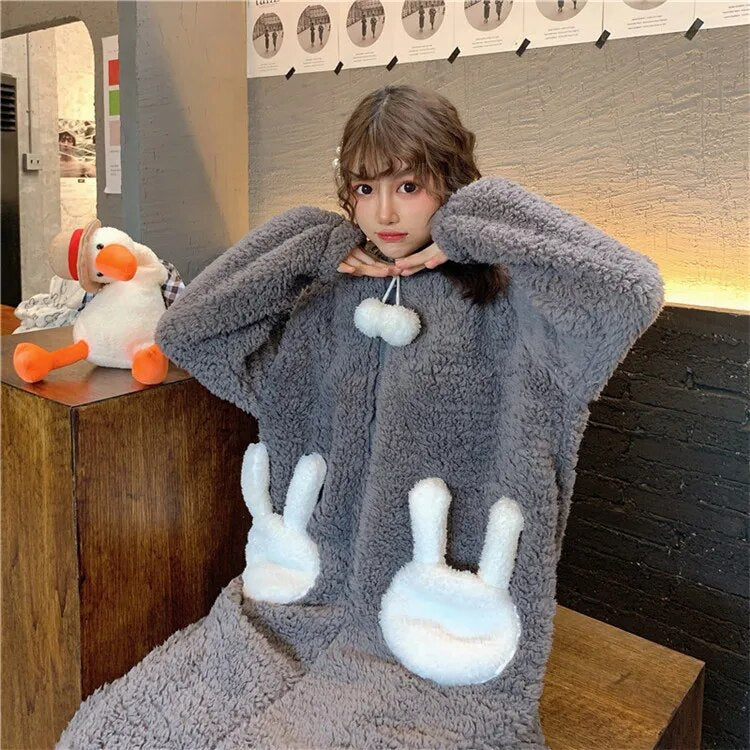 Cute Nightwear
Ships from:
China
Ships from China to most countries
Cute Bunny Long Ears One Piece Warm Hooded...
$61.49
Get warm, fluffy, comfy and look super kawaii with this great rabbit onesie, these bring cute to a whole new level, the large hood features a huge pair of rabbit ears and contrasting rabbit shaped pockets. There is a small tail on the rear and a pair of pom-poms on the zipper. Please check our sizing guide to ensure you have a great fit. Size Bust Length Sleeve Shoulder Size One Size Bust 48cm18.9in Length 55cm21.7in Sleeve 17cm6.7in Shoulder 23cm9.1in The little details: Material: Polyester, Cotton Material Style: Coral Fleece Sleeve Style: Regular Sleeve Length: Full Decoration: Bunny Ears, Pom-Poms, Contrasting details. Thickness: Thick Season: Winter Pattern Type: Animal, Bunny Rabbit Item: Women's Nightwear, Girls Nightwear, Rabbit Cosplay, Rabbit Romper Outfit Collar: Hooded Fabric: Flannel Pajamas Occasion: Cosplay, Casual, Nightwear, Costume, Loungewear
Kawaii Designs
Ships from:
China
Ships from China to most countries
Corgi Tail Women's Shorts: Bloomer style shorts for...
from

$20.45
Show your love for Corgi Dogs with these super kawaii bloomer style shorts, featuring a Corgi behind print on your behind, little feet and a tail hanging down, these are not your everyday shorts. These are made from a Poly/Cotton Mix, with a touch of Spandex to give you a bit of stretch. The waist and leg holes are elasticated give a slight bloomer look to them. Available in two styles, Thin for Summer and Plush for Winter. Please check our size guide to ensure a great fit. Size Waist Length Leg Holes Size One Size Waist 64-95cm25.2-37.4in Length 31cm12.2in Leg Holes 50-70cm19.7-27.6in The little details: Clothing: Corgi Doge Hip Safety Shorts Source Type: Anime, Cosplay, Role Play Item: Women's Safety Short, Corgi Bloomers, Cosplay Bloomers, Adult Nightwear, Frilly Shorts Item Type: Bottoms Pockets: Yes Material: Polyester, Cotton, Spandex Characters: Corgi, Doge Style: Kawaii Women Lolita Girl Corgi Hip Shorts Harajuku Cute Dog Pumpkin Bubble Bloomers Shorts Under Pants Safety Shorts Cosplay Frilly
Free Tracked Shipping*
*Some countries may have a small delivery charge due to disproportionately high shipping.
Fully secured payments
All our payments are handled by secure methods, we'll never see or ask for your payment details.
Friendly service
We pride ourselves on great service, no matter the order value, we want you to be satisfied with it.