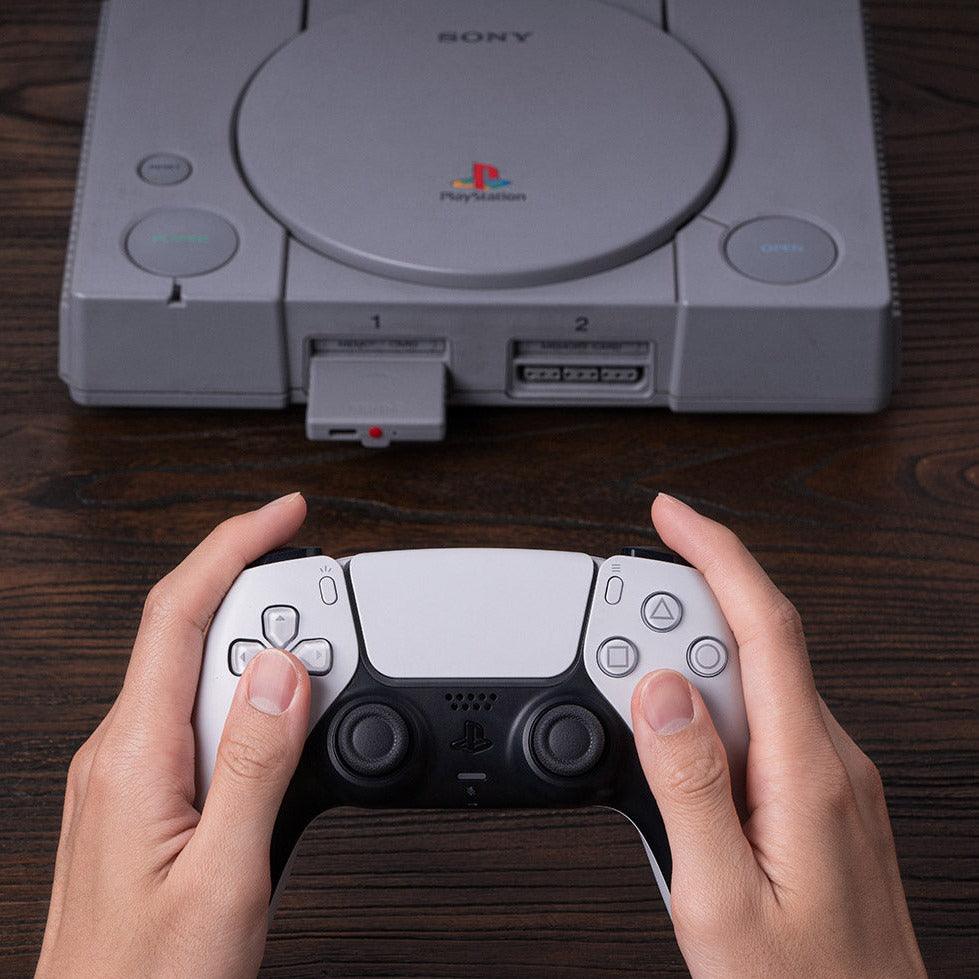 8BitDo
Ships from:
China
Ships from China to most countries
8BitDo Retro Receiver For Sony PlayStation PS1 and...
from

$36.17
8BitDo brings a new wireless experience for your original Sony Playstation and Playsation 2. The Retro Receiver is a Bluetooth receiver that you plug into your original PSX, PSOne or PS2. It allows you to play wirelessly on your classic console, no more wires to trip over, sit back and enjoy responsive wireless gameplay using your favourite controller. These also double as a receiver for using the supported controllers on your Windows PC, simply connect using the included cable and use your favourite controller for PC gaming. Features: Controller Compatibility: DualShock 4, DualSense, and DualSense Edge Controllers Xbox One, Series, Elite Series 2, Elite Series 2 - Core, and Adaptive Controllers Wii U Pro and Switch Pro Controllers 8BitDo Ultimate Bluetooth, Pro 2, SN30 Pro+, SN30 Pro, SN30 Pro for Android, Lite 2, Lite SE, and Lite Controllers; Arcade Stick; PS1 Modkit and PS1 Classic Modkit PLEASE NOTE: The 8BitDo NEOGEO Wireless Controller is not supported Type-C USB port: Allows for firmware upgrades and using it on PC. Allows use of supported controllers on your PC Specifications: Compatibility: Sony Playstation (PSX/PS1), Sony Playstation 2 / PlayStation 2 Slim (PS2), PS One, Net Yaroze, Win 10/11 Connectivity: Bluetooth (support Bluetooth LE) Bluetooth range: 10 meters max, within 5 meters for best performance Dimension / Weight: 56*24*8mm / 14.8g Power: 5V, 100mA (powers directly from the Playstation controller port) Includes: Retro Receiver for Playstation, USB Cable
NSE Imports
Ships from:
China
Ships from China to most countries
RGB Scart Cable for Sony Playstation / Playstation...
$10.29
These RGB Scart cables for your Sony Playstation 1 (PSX), PSOne or Playstation 2 (PS2) will give you the best picture for an RGB capable Scart connected TV. No more blurry edges or washed out colours, just crystal clear analogue gaming. Cables are approximately 1.8m / 6ft in length.
Free Tracked Shipping*
*Some countries may have a small delivery charge due to disproportionately high shipping.
Fully secured payments
All our payments are handled by secure methods, we'll never see or ask for your payment details.
Friendly service
We pride ourselves on great service, no matter the order value, we want you to be satisfied with it.