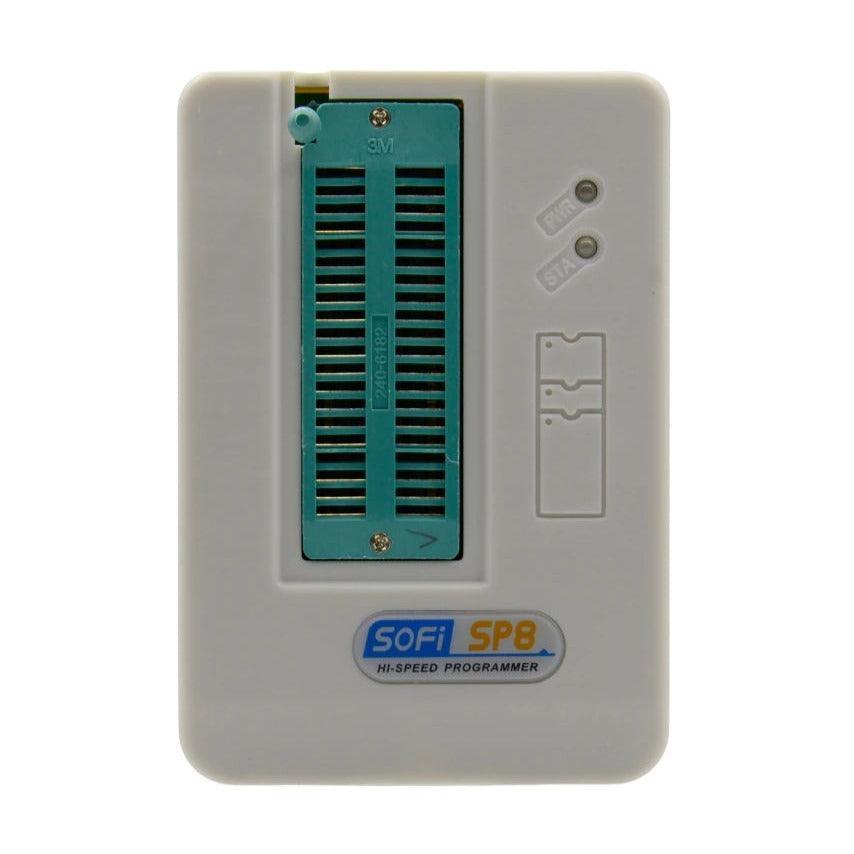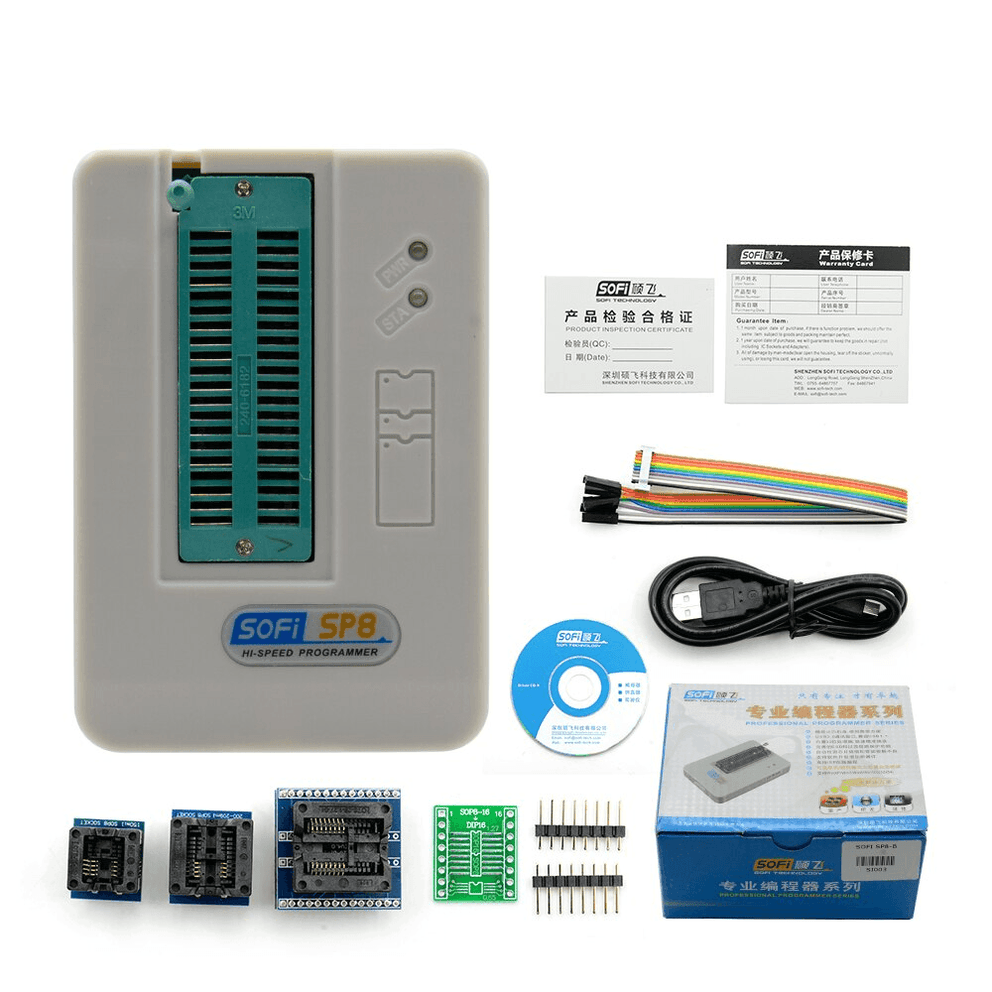 SOFI
Ships from:
China
Ships from China to most countries
SOFI SP8-B High Speed USB programmer + 4...
$70.46
$71.75
The Sofi SP8-B provides a compact and feature rich programmer, with a high quality 3M ZIF Socket, ISP port and supplied with a range of adapters you are ready to tackle most common chip styles. Please visit our SOFI SP8-B Downloads Page for the latest software, manuals and chip support list. Need additional adapters? Browse our SOFI SP8-B range to find suitable adapters. After purchase we will send links to download the software and manuals. Need additional adapters? Browse our DIP8 range to find suitable adapters. Please get in touch if you cannot find the adapter you need. Features: Program, Read, Write, Test and more. Supports over 5400 types of ROM, EPROM, EEPROM, NAND, GAL, SRAM, EMMC, AVR, MCU etc.... ISP Port for In Circuit Programming Built-in 128Mbit data storage for computer free programming Intelligent Pin sensing show if there are connection issues or incorrectly seated IC's Kits contain different adapters to cover a wide range of chip styles. See our specifications section for a full list High Speed true USB connection (not simulated serial port) Over-current and ESD protections, additional protection against damage of programmers or USB ports Can attach multiple programmers to one PC for small batch runs. Serial 24/25/93/BR90/BR93 series programming. High-performance BIOS programmer Supports low-voltage 3.3V and 5V chips Support WinXP/Vista/Win7/Win10 32&64 bit English & Chinese Language Specifications: Brand: Sofi Model: SP8-B Processor: 32-Bit High Speed Processor Memory: 128Mbit (16 Megabyte) onboard Storage Kit Includes: 1 * SOFI SP8-B programmer 1 * USB cable 1 * 10 Pin ISP/ICSP cable 1 * Driver CD 1 * SOP8/SOP16/MSop8/SSOP8 to DIP16 Adapter 1 * SOP8-DIP8 150mil adapter with Gold Plating 1 * SOP8-DIP8 200-208mil adapter with Gold Plating 1 * SOP16 to DIP16 Adapter with Gold Plating 1 * SOP8/SOP16/MSOP8/SSOP8 Adapter
Free Tracked Shipping*
*Some countries may have a small delivery charge due to disproportionately high shipping.
Fully secured payments
All our payments are handled by secure methods, we'll never see or ask for your payment details.
Friendly service
We pride ourselves on great service, no matter the order value, we want you to be satisfied with it.