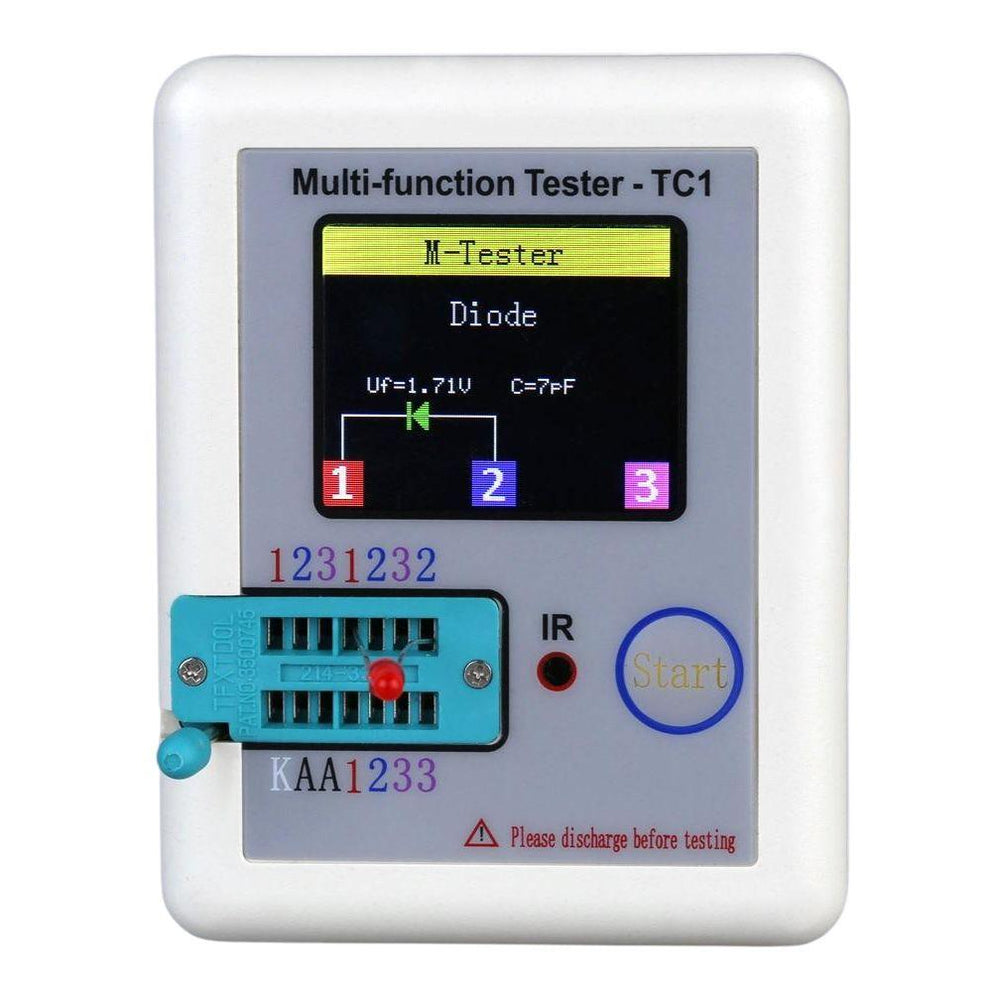 DANIU
Ships from:
China
Ships from China to most countries
LCR-TC1 Color Screen Multifunctional Transistor Tester for Diode,...
$43.75
The DANIU LCR-TC1 is a versatile and easy-to-use component tester that is perfect for electrical repair technicians and hobbyists. It features a clear and easy-to-read color screen, making it easy to quickly test a wide range of components for values and failures. The 14 pin ZIF socket allows for quick, easy, and hassle-free testing. Simply pop your component in and close the handle, and the unit will test the part and provide feedback on its results. The DANIU LCR-TC1 is also equipped with an IR sensor that can be used to diagnose infrared remote controls. Simply point the remote control at the tester and press a button to see if it responds. Features: Detects NPN and PNP transistors, capacitors, resistors, diodes, triodes, N-channel and P-channel MOSFETs, IGBTs, JFETs, triacs, and batteries Detects infrared wave forms Can detect Zener diodes and has a self-calibration function For IR detection, align the infrared remote control with the "IR" light, then press the button in the remote control, if the detector successfully decodes it, it will display the data code and infrared wave form. Easy to use with one-button operation Put the pins of component in corresponding area, then close the handle and the detector will test it automatically 14 pin ZIF socket for quick and easy testing Color screen for clear and easy readings Specifications: Display: 1.8inch TFT Screen Diode Range: < 4.5V Zener Diode:Transistor Detect Area: 0.01-4.5V Zener Diode Detect Area: 0.01-30V Triac Range: IGT < 6mA Capacitance: 25pF-100mF Resistor: 0.01-50MΩ Inductance: 0.01mH-20H Battery: 0.1-4.5V Power Mode: Rechargeable Lithium Battery (INCLUDED) Item Size: 8.8 x 8 x 2.8cm / 3.47 x 3.15 x 1.10in Item Weight: 111.5g / 3.94oz Package Size: 14.5 x 12 x 2.7cm / 5.71 x 4.73 x 1.06in Package Weight: 114g / 4.02oz Packing included: 1 x Multi-functional TFT Transistor tester, 1 x Electronic component set(Sent Randomly), 3 x Test hooks Operating Overview: Click to view Full Specifications ×
Free Tracked Shipping*
*Some countries may have a small delivery charge due to disproportionately high shipping.
Fully secured payments
All our payments are handled by secure methods, we'll never see or ask for your payment details.
Friendly service
We pride ourselves on great service, no matter the order value, we want you to be satisfied with it.