TWO TREES® Sapphire Plus Core XY 300*300*350mm Printing Size 3D Printer With Full Metal Body/Double Linear Guide/BMG Extruder/Power Resume/Filament Detect/Auto Leveling DIY 3D Printer Kit
This item ships from our: UK WAREHOUSE
Ships to UK and most EU Countries.
Other destinations: Please contact us for details.
Product description
The Two Trees Sapphire Plus CoreXY follows on the success of their Sapphire Pro model. Featuring upgraded components and a larger build areas, this is ideal for those looking ot produce large scale prints. Teh Sapphire Plus like the Pro retains the cube shape and utilises TWO TREES® CoreXY belt setup. It's fast, accurate, and reliable, sporting a range of high-tech features. The Sapphire Plus is aimed at those looking for a high spec larger format printer.
All the cool details
300*300*350mm Large Printing Support Ultra-Quiet Printing Mode
High accuracy printing quality, ±0.01mm.
Supports offline (SD Card) or online (USB Connection).
Dual Drive Extruder for smooth filament feeds
Runs on Two Trees custom board software for maximum performance.
CoreXY belt system for stability. Support power loss detection and recovery. Support filament runout detection and recovery.
With touch screen control, heated bed.
Suitable filament recommendation: ABS,PLA,PETG,Wood filament 1.75mm 1kg Spool
The technical stuff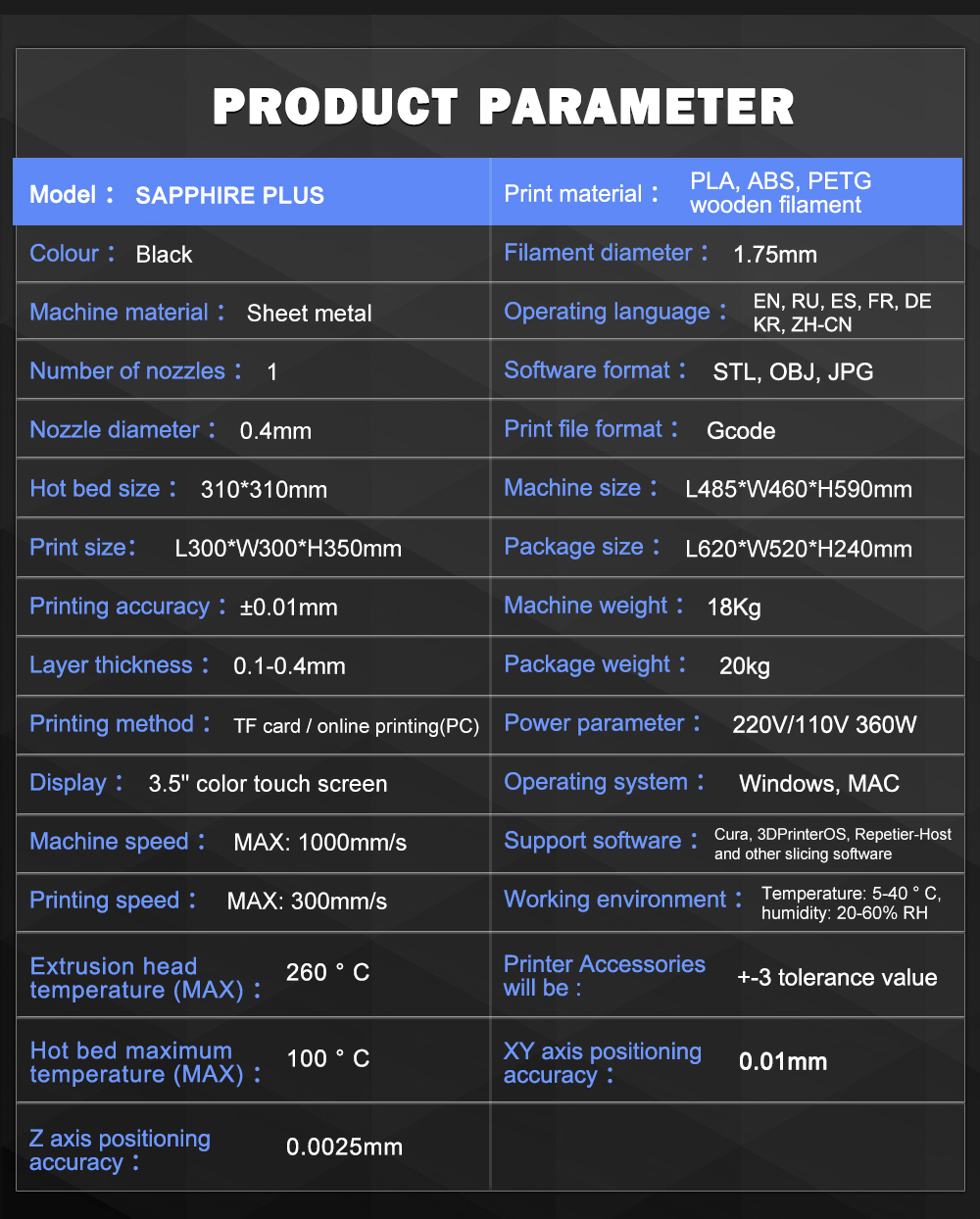 Manual, links and resources to help you get more from this item.
Free Tracked Shipping to most countries*
*Some country/warehouse combinations may have fees due to high shipping costs.
Secure Payments
We accept most Cards, PayPal, Amazon Pay, Google Pay and Apple Pay